Fieldwork highlights: Adolescent access to sexual and reproductive health services in informal settlements in Gauteng, South Africa
As part of the NIHR-funded Global Health Research Group on Preterm Birth (PRIME), University of Pretoria and University of Sheffield researchers are investigating adolescent pregnancy and motherhood, and adolescent sexual and reproductive health services in informal settlements near Pretoria, South Africa. I spent a month and a half last summer, alongside Sheffield students Haddijatou Allen and Matthew Pritchard, on student placements supported by Julie Balen, and local nurse Subi Malebye, from the University of Pretoria. We heard from teens, their parents, nurses and community health workers, health authorities and church leaders, about the complex and often taboo subject of teen sexual activity and access to "protection and prevention", as referred to at local level.
We are grateful to the girls and women who opened their doors to us and shared their stories – this was not an easy topic for them to discuss, as many of the girls we met were overwhelmed by unplanned motherhood, trying to balance it with their own educational aspirations, or still angry at boyfriends who left as soon as a baby appeared. We also spoke to boys and men to gain their viewpoints, as well as healthcare providers in the area.
Initial findings point to overlapping factors of economic vulnerability and gender inequality as well as intergenerational communication gap on talking about sexuality, which very much shape the extent to which girls can make use of the sexual and reproductive services available through South Africa's public health system.
I would like to use this space to recognise the fabulous on-the-ground help we received from dedicated South African medical professionals and community health workers, who are working with very limited resources to attempt to extend services to those who are often left behind. Many thanks also to PRIME colleague, in-country PI, Dr. Priya Soma-Pillay, who has made this research possible.
Written by
Dr. Bronwen Gillespie
Post-doctoral Research Associate - PRIME
University of Sheffield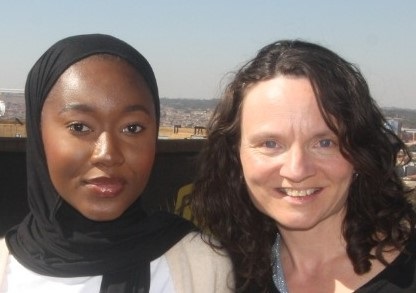 Dr Bronwen (right) with MA student Haddijatou Allen