Research collaboration and capacity building meeting at Babcock University, Ogun State, Nigeria
Between 25 to 30 March 2019, NIHR PRIME Global Health Research group conducted an extensive, 5-day long, capacity building workshop to strengthen research collaboration with the Babcock University Ilishan Remo in Ogun State, Nigeria.
The programme was hosted by Prof. Oladapo Walker and Dr Atinuke Olaleye of Babcock. The Faculty of researchers attended from the Universities of Sheffield, Benin, Kano and Babcock Ogun State and included Prof Dilly Anumba, Prof Hadiza Galadanci, Dr Ehigha Enabudoso, Dr Khondoker Akram, Dr Gertrude Nyaaba, Ms Shumona Salam and Ms Mary Obiyan, along with the hosts. The research workshops covered Rsearch methods (focusiing on qualitative approaches), grant writing, manuscript preparation and submission, and molecular biological approaches to translational research.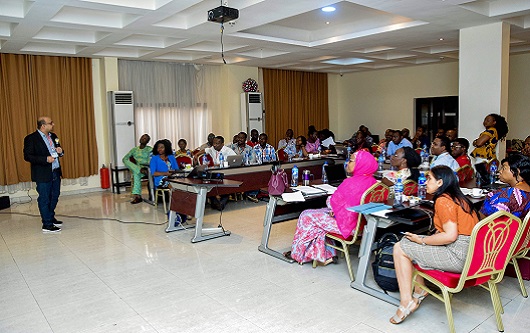 The technical sessions were devoted to discussing strategy and preliminary findings of the implementation and health systems research exploring the barriers and enablers of care for malaria in pregnancy in Ogun state rural communities and facilities, including the impact of alternative services health care providers on antenatal care. A session on the challenges and opportunities for strengthened biomedical research collaborations was well attended by laboratory scientists and biology researchers.
On Day-3 and Day-4, a research prioritisation exercise involving over 30 stakeholders around managing pregnancy hypertension (eclampsia and pre-eclampsia) was also undertaken. Attendees included public health and community health workers, traditional birth attendants and representatives of the Ogun State Ministry of health.
On the last day, there was a workshop on innovation in research grant application and writing, scoping of funding sources, scientific paper writing and an interactive grant proposal writing session focusing to preterm birth, pre-eclampsia, malaria, and stillbirth. Participats included early career researchers and postgraduate students and the local medical school faculty.
The workshop was funded by a Research England, Quality-Related Global Challenges Research Fund, Institutional Partnerships Award by the University of Sheffield.