Capacity building and research collaboration workshop at Bayero University, Kano, Nigeria
PRIME Global Health Research group conducted a 5-day long capacity building workshop to extend research collaboration to the Bayero University at Kano, Nigeria. This programme was held from 30 June to 5 July 2019 at the Africa Centre of Excellence for Population and Policy (ACEPAP) at Bayero University, hosted by Prof. Hadiza Galadanci.
A panel of experts in sociology, clinical and biomedical science from Sheffield, Kano, Benin and Ogun state ran the workshop and training programme. This networking meeting followed up the progress of the Malaria in Pregnancy research project at Babcock University. There were several plenary talks on various topics including qualitative research, implementation science, pre=eclampsia research prioritisation, and laboratory research in resource limited settings. A workshop on grant application writing, systematic reviews and meta-analysis, and scoping research funding was also conducted to enhance the research capacity amongst the participants.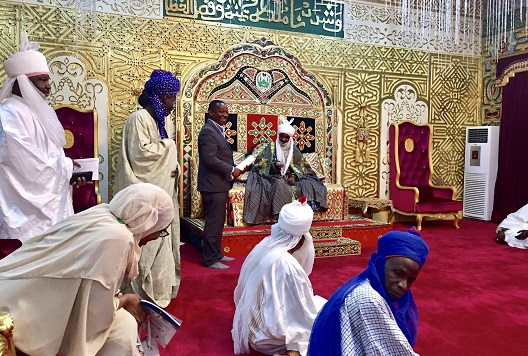 The Faculty panel of the workshop was warmly welcomed by the Vice Chancellor and other members of the University and facilitated a meeting to discuss future research collaboration. The delegates also paid a courtesy visit to the Emir of Kano at his Palace and received a warm welcome. There, the team lead by Prof. Dilly Anumba and Prof. Hadiza Galadanci discussed with the Emir about the importance of promoting the education of the girl child as a crucial strategy for improved family physical, mental and reproductive health. The Emir extended his full support for the research collaboration between the NIHR PRIME research group and researchers at ACEPAP and BUK Nigeria.
The workshop was funded by a Research England, Quality-Related Global Challenges Research Fund, Institutional Partnerships Award by the University of Sheffield.